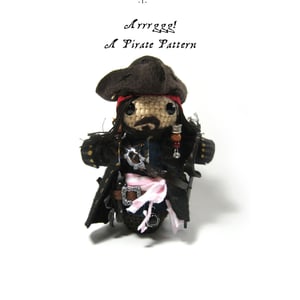 $

8.00
Do you have pirate fever? Are you obsessed with scurvy scalawags? Well then this is the pattern for you! This 34 page pattern is incredible detailed and allows you to create almost any pirate you can think of.
The best part about this pattern is the customization. You can follow all of the instructions to a T and make a pirate just like the picture, or you can mix and match and make your own custom pirate!
This PDF includes instructions on how to crochet a basic human pattern, how to construct the clothes, and very detailed instructions on how to construct a gun, sword, compass, belt buckles and many more items. There are also tons of pictures included for further clarification, for those visual learners out there!
In order to complete this project, you will need to know how to:
* single crochet
* double crochet
* single crochet increase and decrease
* hand sew or machine sew
* basic sculpey knowledge (how to make a snake, how to flatten sculpey)
This pattern also includes no-sew directions, for those who can crochet but cannot sew. Just print out the colored coat and vest and enjoy!
Purchase of this pattern includes full e-mail support. Pattern will be e-mailed in a PDF format within 24 hours of purchase.